Tripawds is a user-supported community. Thank you for your support!
Ahhh…
I love this time of the year.  It is truly the time of the year that I feel like myself for whatever reason!  Last year at this time we had so many things going on I didn't get to enjoy Halloween really at all.  The first week of October my brother got married (I was their photographer :D) we ended up in a fight with out maintenance/apartment management and ended up leaving the complex so we had to move the second week of October (it was for the best 110%!) and we spent the rest of the month getting settled.  Plus I was without cable (gasp!) for a week or more after that so I barely got to watch AMC Fear Fest, which…was completely devastating LOL
But this year…
THIS YEAR!
I have made the best out of this entire season.  Last weekend my brother, SIL and I went up to Lancaster, PA for "Field of Screams" which was insane!  Three houses and one hayride that was fun and a bit spooky.  They had an area that was like a spooky carnival set up so that was fun as well.  About an hour and a half drive for us but a very simple ride so not too bad.
Mom has been getting around but not enough so that she could go with us sadly, but the two of us have been doing day trips as well.  We drove up to an orchard one weekend, and then we went to a pumpkin patch another.  We have also been just hanging out at home watching scary movies.  I love this time with her.  When I was younger we had a bit of a rocky relationship and then it suddenly clicked that we were more than just mother daughter, we were best friends.  I would honestly do anything for her and I just want to see her happy and living a good life.  The stroke has slowed her down a bit, but she has proven to me how strong a person can be.  She has never given up and it is something I truly admire.  We are very similar so it makes for a fun time as we are always laughing with each other.  Even if I had a bad day at work I come home and know I can relax and have a great time with her.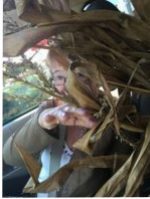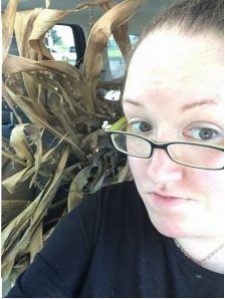 Here is us after we purchased the corn stalk I've been wanting to get for years LOL  We were the children of the corn 😀
The weather has been a bit weird here, as I am sure it is where you are as well.  It hasn't stopped me from enjoying the fall things, even though it feels strange wearing flip flops to places!  I also started school this month.  I don't know what I was thinking going back a year after having been in college for 6 years straight!  I feel so out of the loop now!  So far so good though, this is my Master's and I changed my major a little bit so its going to be different.  I just hope that I can make something out of it!  Also all in the same month, my company I work for was bought out!  They are planning on making all sorts of changes.  So for a person who dos not really like change…I'm being hit left and right with it! LOL
So I know you all want to see it…here is a picture of my house right now…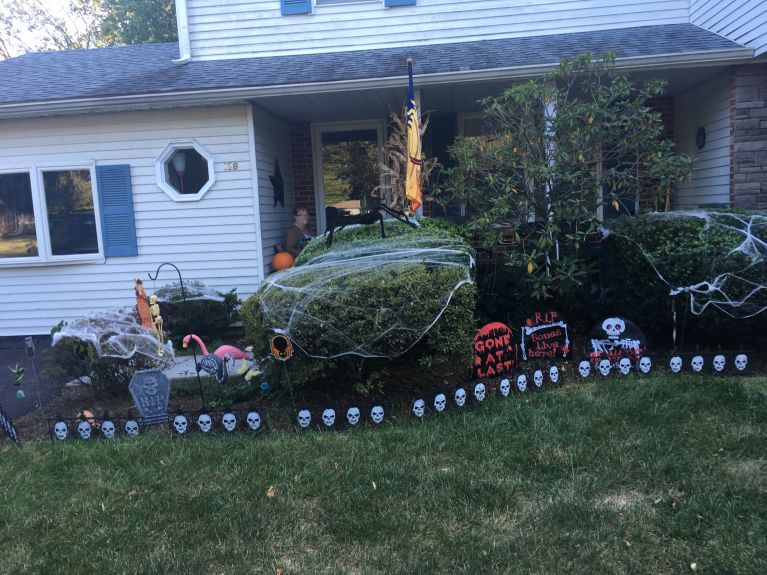 If I could…I would leave it up all year.  But I guess that would look a little weird and knowing my neighbors…they would complain for sure!  I can't believe we have lived here for a year now.  it has really been the best place we have lived ever since our home foreclosed back in 2004.  We were bounced around quite a few times but now we are here and we all love it.  I just wish I owned it!!
Lastly…
An update on this guy….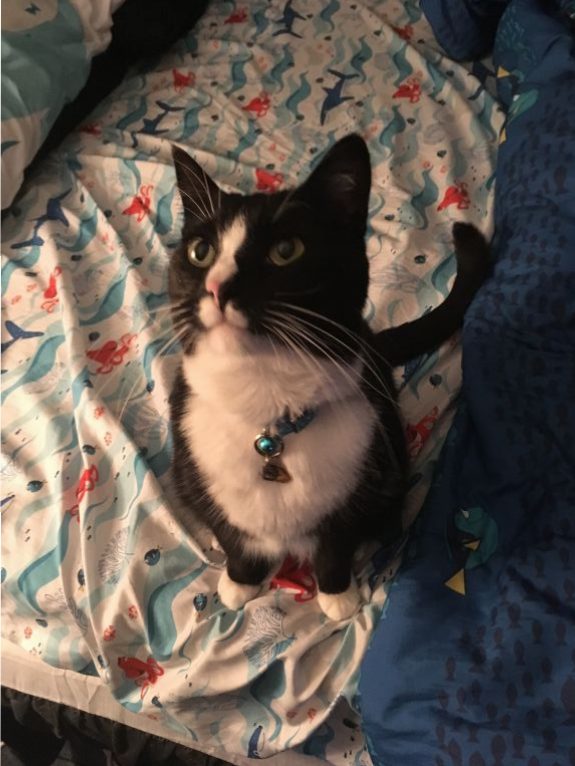 after losing my three, he has really been a great comfort.  It's amazing what an animal's love for you can do to help you heal.  I love coming home to him, relaxing with him, and waking up to his little face every morning.  He brings my life light and adore him more than I thought was possible.  He chose me 3 years ago <3
Sorry for the lengthy rambled post but there ya have it.
Hope all of those who follow my blog are doing well.  Give your pets all hugs and kisses from me 🙂
<3 kendi